THIEDE TRANSLATION
in Berlin
Your professional translator
for English, Spanish & German
since 2009
Welcome to THIEDE TRANSLATION in Berlin
your next stop to top notch and reliable translations!
If you need a
certified translation
for authorities, offices or other institutions, then you have come to the right place. As a
specialist for certified translations
in
English, Spanish and German
, I will support you with my many years of experience in your translation journey through the bureaucratic jungle.
Do you need a professional translation of texts in your field? I offer reliable, language-related services tailored to your requirements. Whether general language texts, specialized texts or documents and certificates that need to be certified, I am at your service as an experienced language expert and will translate your texts precisely and reliably. Similar to a well-planned timetable, I ensure that your translations are delivered on time, as we all know that time is often a crucial factor. Your satisfaction as a client is always my highst goal.
Entrust your documents and texts to an expert who specializes in your field. I will accompany you on your translation journey and ensure that you arrive at your desired destination.
My Qualifications are your Benefits
Translator with German University Diploma (equiv. to Masters degree) for English, Spanish & German
Duly authorized translator for  English, Spanish and German by the Regional Courts of Berlin & Frankfurt am Main
BDÜ Member – Professional Association of Interpreters and Translators
14 years of professional experience in the industry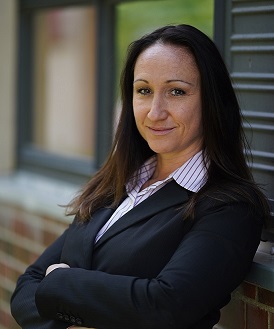 Transparent rates:
Your individual quote comprises a detailled cost breakdown for your personal documents or texts. There are no hidden costs.
Quick turnaround:
Depending on the length of your document or text, I may be able to finalize your translation on the same or the following day.
Call-back and WhatsApp service: If you would like to discuss your request with me by phone, I am happy to call you back. You can also contact me on WhatsApp using my Call-back and WhatsApp service.
as a freelance translateor for
English, Spanish & German
are trailored to your individual needs
Certified translations
Certified translations of birth certificates, marriage certificates, certificates of good conduct, documents for visa applications, residence permits and more for authorities, universities, etc.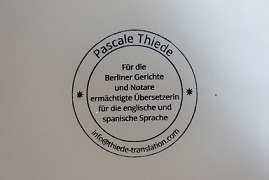 Professional Translations
I provide professional translations in the fields of law, business, finance, cryptocurrency & medicine for you and your company.
I am your professional partner in your field of expertise.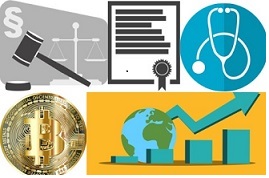 Express Service
Against all expectations, you have received an appointment with a public authority at short notice?
Urgent translations are possible within certain limits. Please
call me
and send me your document to be translated by
e-mail
or using the
contact form
below. I will be happy to help you!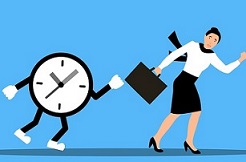 Years of Professional Experience
Translated and Certified Documents & Certificates per year
Translated Words of Specialized Texts
We love working with Pascale.We were referred to her from a family member who has worked with her for some time now and highly recommended her.She is highly efficient, quick, thorough and very personable.My wife is probably the hardest person in the world to please when it comes to customer service, even she was surprisingly impressed.We can't say enough good things about her!
Taylor Sinclair

I have been supervising translators for many years now and it is always a great pleasure to find people like Miss Thiede, who not only deliver on time (or even ahead of schedule in my case), but also do an impeccable work. Not to mention walking the extra mile to help you with context and detail that are not included in the translation itself. I needed her help for a personal project and she helped me so much more than I asked or could have hoped for. Thank you, Pascale!
Maria Botan, Cameo Systems

Hervorragende Übersetzung zu einem fairen Preis. Ich bin rundum zufrieden. Hier stimmt alles: vom Kundenservice über eine schnelle Bearbeitung bis hin zur Qualität ist alles top! Ich würde Thiede Translation jederzeit weiterempfehlen.
Caro Schapitz, Regionalleiterin, WBS Training AG

I can highly recommend Thiede Translations. Pascale Thiede is a very friendly and reliable person, and the communication with her is just great. She translated for me personal documents (e.g. CV) but also documents for my work in perfect quality and really fast. I look forward to make use of her service again!
Dr. Diana Süsser, Research Advisor, Speaker & Mentor in Sustainablity

I needed a certified translation from German to English. This agency did an outstanding job, offered a nice contact, quite fast, efficient and a fair pricing made this a perfect choice. Even from the USA, I'd prefer this service over a local agency. I'd give 6 out of 5 if I could
Marcus Lindemann,

Senior Technical Instructor Vestas, USA



Great service, both Professional and efficient. very response to all my communication and translation was delivered ahead of time. Highly recommend for personal and professional translation requirements.
Carolyn Brand,

I recently had the pleasure of working with Pascale Thiede of Thiede translation, a small company that provides top-quality translation services and that I have used often. Ms. Thiede is top-notch, and her commitment to customer service is unmatched. I look forward to working with them again in the near future.
James Pierre, Wine Business Consultant and Advocate
Have you had a positive experience with THIEDE TRANSLATION?
Please take a minute of your precious time to leave me your review on
Thank you very much for your support!
Translator with German University Diploma (equiv. to M.A.)
for English, Spanish & German
Duly authorized translator by the Regional Courts of Berlin and Frankfurt am Main to translate and certify documents and texts
I am happy to assist you with your translations needs.
Would you like me to send you a quote for your document? Have your documents translated and certified by me as an duly authorized translator? Order a professional translation of your coporate text? Or discuss your translation needs and requirements with me personally?
Please feel free to send me your request using this contact form including your files and questions. You will receive your reply in no time. I will answer as quickly as possible. Please upload your file(s). I need to review and analyze your documents to provide you with your individual cost and time estimate.
During business hours (Mon - Fri 8.30 am - 5 pm), you can call me at any time, or use my Call-back and Whatsapp service, or send me an e-mail.
Still waiting for your quote? Please check your spam folder. Sometimes e-mails do not make it to your inbox.
Appointments at my office are ONLY possible, if prearranged.
Please never show up WITHOUT having an appointment.
FYI: Your translation order may easily be fullfilled and finalized digitally, without any personal contact.
For more information, see the FAQ section.
BUSINESS HOURS:
Monday to Friday: 8.30 am to 5 pm
Saturday, Sunday & Holidays: closed